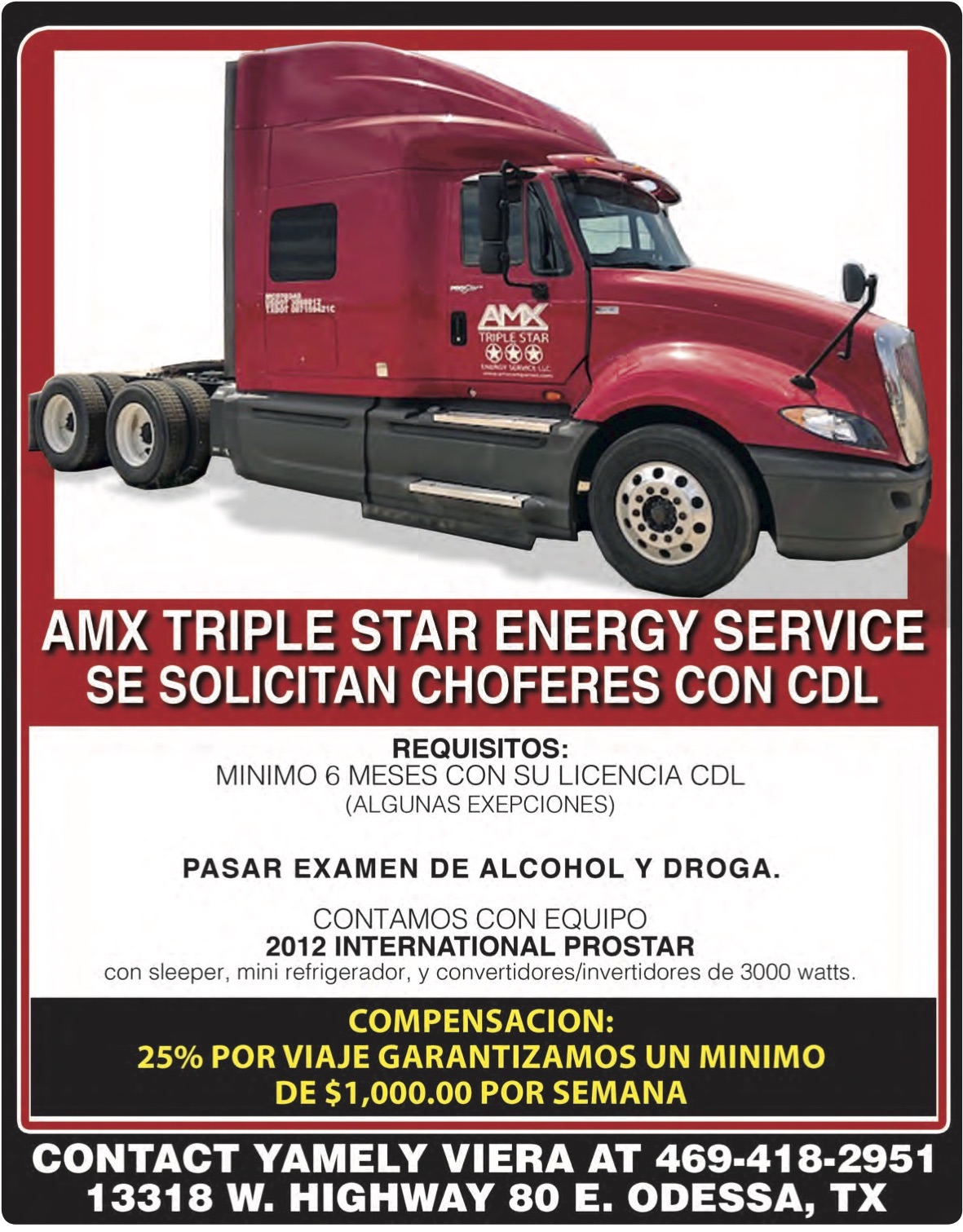 Brand new issues of this week's Thrifty Nickel are on newsstands all across the Permian Basin right now! The new featured front page ad is for AMX Triple Star Energy Service — They're looking to hire some good folks for awesome jobs, contact Yamely Viera at (469) 418-2951 today!
With the holidays quickly approaching here are some important dates and deadlines to keep in mind. Thanksgiving Deadline – November 25th, Paper
Delivered November 26th.
Christmas Deadline -December 20th, Paper Delivered December 23rd.
December 24th – Our office will be closing at noon.
December 25th – Our office will be closed all day. December 26th – Our office will be back open at 8am, normal hours.
January 1st 2020 – Our office will be closed all day.
Holiday Ad Bundles Are Available – 10 ads for $30 ! Right Now Buy One Ad Get Your 2nd Ad Free!
Or Buy One Ad For 3 Weeks Get Your 4th Week Free!
It's good to know the King & Trailer King is your trailer headquarters, voted #1 in the Permian Basin! Call for the best price (432) 333-3200 or stop on by 6214 W. Highway 20 – Service Road!
We can prepare copy for your business that will be strong, forceful, & convincing so that it stays at the top of your target audience's minds when they're ready to buy. We can place this copy in the avenues that make the most sense for your business, including a national print audience, online, & social media. We want to help you take your advertising budget and make it into a profitable investment, not just speculation.
The reason why Thrifty Nickel works, is because of our great people working hard to help you achieve your goals. With so many advertising opportunities available today, it's nice to still have someone around with a human
touch that truly cares about the same things you do.
With a CVC audited circulation of 724,228 nationally, you can rest assured your business will get seen. Many different advertising options are available, both by region and all across the country. Our Texas region contains 21 different publications for only $185 a week (20 words or less). The Central U.S. region has 18 publications for $175 a week (20 words or less). The West Coast region of publications has 47 publications for $530 a week (20 words or less) Last but not least, the Thrifty Nickel Eastern U.S. region has 55 different publications for $800 a week (20 words or less). Now you can advertise your business or
items in any of these locations.
Call us today to get started (432) 333-4184!
If you want your business to grow, you have to get your name and your products or services in front of your customers and prospects – and keep them there.
Even if you just want your business to stay where it is, you need to advertise – because it's a proven fact that you will lose up to 25% of your customers each year to relocation, competitors or death.
For over thirty years now our readers have picked up our paper not because they're simply looking, but because they want to buy! From small items like clothing to large ones like buying a home, people rely on their local Thrifty Nickel!
You may already know some of our sales team & maybe you just haven't connected in awhile. If this sounds like you, then call (432) 333-4184 and reconnect with Jay, Brenda, Jennifer, or Virginia today! They can help you with special discounts where available & there's still plenty of time to advertise your Summer sales & promotions!
New Year's Eve is just around the corner and firework specials are coming!
For over thirty-six years Truckload Fireworks has been known for a good time! Celebrate in style with your family this year by visiting any of their locations across the Permian Basin! You'll be glad you did, bring in the New Year with a bang!