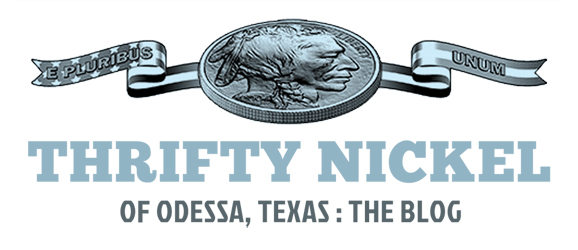 We'll be closed at noon on Thursday December 24th and all day on Friday December 25th for Christmas. At that point the top priority, let's face it, is just to change your calendars and practice writing the year on your checks correctly — we're closed on New Year's Day, Friday Jan 1, so you can spend the whole day doing that.
With the holidays right around the corner, we need all hands on deck to help out the West Texas Food Bank. So right now if you pay for three weeks and bring in two cans of food, we'll give you a fourth week free! (Up to 10 words for free fourth week, each word after is 40 cents) All food collected will go to the 
West Texas Food Bank
 where they work tirelessly to help end hunger in our community! Help out a needy family this holiday and save yourself some money with Thrifty Nickel!
If you're having a hard time and find yourself going hungry until payday, help is out there. If your child can't afford a lunch ticket at school, then have no fear. Text your order to Mrs. Marla at 432-967-8055. Mrs. Marla is a good person who cooks for the homeless and helps feed families who are going through tough times. Please let her know if she can help you today, also if you have spare money for a donation or food items, that would also help Mrs. Marla!" Go to: "Marla's Help For The Hungry" on Facebook. Marla is grateful, thankful, and blessed for all the support she can get to help feed the hungry in our community.
Did you know that Thrifty Nickel can help you advertise in America from the East Coast to the West Coast, and everywhere in between? Our team here in Odessa, Texas is ready to help your ads get seen all across the country. From Los Angeles to New York, and even twenty-one different cities in the great state of Texas, we can do it all for you. Chances are that this sounds like a very interesting idea, but you may be worried about the price. Well with Thrifty Nickel you can get the best rates in the country and get your ads seen nationally for much less than you think.
With a CVC audited circulation of 724,228 nationally, you can rest assured your business will get seen. Many different advertising options are available, both by region and all across the country. Our Texas region contains 21 different publications for only $185 a week (20 words or less). The Central U.S. region has 18 publications for $175 a week (20 words or less). The West Coast region of publications has 47 publications for $530 a week (20 words or less) Last but not least, the Thrifty Nickel Eastern U.S. region has 55 different publications for $800 a week (20 words or less). Now you can advertise your business or items in any of these locations. Call our office today for information (432) 333-4184 or (432) 580-7777. Display rates are available also, call for Jay Warren (432) 333-4184.
You may already know some of our sales team & you just haven't connected in awhile. If this sounds like you, then call 
432-333-4184
 and reconnect with Jay, Tammie, Jim, Jake, Brenda, Mary, or Virginia today!
Advertise or find your perfect services with us at 
OurThriftyNickel.com
. It really couldn't be easier. Head over, sign up for an account and then place an ad! Available 24 hours a day, 7 days a week. Try it out! $5.75 for the first ten words, .40 cents per each additional word. One picture free with each ad! For those who prefer a human touch for your business interactions, then feel free to call in and place an ad. Our helpful and friendly staff are available starting at 8:00 every day of the week. On Monday, Wednesday, and Thursday our phone transactions and business locations shut down at 5:00 PM, Tuesdays till 6:00, and Fridays till 2:00 PM.
If you're already out on the town running errands, we're conveniently located at 2611 Golder Avenue, Odessa TX, 79761. That address works for all your mail-in ads as well! We also have newspaper stands in most of your local stores, including all the 7-Eleven stores in Odessa and Midland! You can also find Thrifty Nickel at Supermercado in Midland, El Rancho in Odessa, H-E-B, Stripes, Albertsons, Lowes Supermarkets, and Walmart! So if we don't have a stand in your favorite store, call us and we'll get one there, just for you!
Utilize the Thrifty Nickel Classifieds, serving the Permian Basin for over thirty years, reaching over one hundred thousand households.