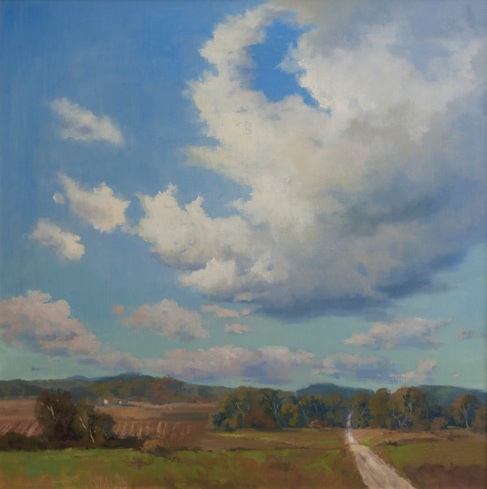 Thrifty Nickel offices are open and waiting to assist you on this beautiful Monday. While the business of advertising isn't exactly an art, we do love to feature great artists in our paper. Mary Garrish has been painting wonderful plein-air art pieces for years now. Mary says that –
"I am drawn to the peacefulness of being in nature and the challenge of capturing a scene as it exists for only a brief moment in time. The act of painting landscapes requires the artist to observe the intricacies of nature in a far more detailed way than what is usual for the casual observer. When I am painting, I feel an intimacy with both my subject and my medium and I marvel at the subtle interplay of light, color and space that is always evident in every subject. The ever-changing quality of nature reminds us of the impermanence of all existence and this awareness beckons us to more fully appreciate, in depth all that is before us in any given moment. One of my goals as an artist is to share my own heightened awareness of the awe and wonder that is our world with others as they engage in the act of viewing my paintings."
Take a look for yourself and visit her website http://www.marygarrishfineart.com today. Read up on Mary's art background and appreciate the subtle moments of awe and wonder that she captures so well in her paintings.
Advertise or find your perfect services with us at OurThriftyNickel.com. It really couldn't be easier. Head over, sign up for an account and then place an ad! Available 24 hours a day, 7 days a week. Try it out! $5.75 for the first ten words, .40 cents per each additional word. One picture free with each ad! Because we love our customers, right now when you purchase two weeks we will offer you a 3rd week at no charge!
For those who prefer a human touch for your business interactions, then feel free to call in and place an ad. Our helpful and friendly staff are available starting at 8:00 every day of the week. On Monday, Wednesday, and Thursday our phone transactions and business locations shut down at 5:00 PM, Tuesdays till 6:00, and Fridays till 2:00 PM.
For the Odessa office place your calls to: (432) 333-4184
For the Midland office dial: (432) 580-7777
If you're already out on the town running errands, we're conveniently located at 2611 N. Golder, Odessa TX, 79761. That address works for all your mail-in ads as well! We also have newspaper stands in most of your local stores, including all the 7-11's in Odessa and Midland! If we don't have a stand in your favorite store, call us and we'll get one there, just for you!
Utilize the Thrifty Nickel Classifieds, serving the Permian Basin for over thirty years, reaching over one hundred thousand households.